[ad_1]
The journey from Johannesburg to Tokyo is a long one, a 24 hour journey covering 13,527 km. Alternatively, it could be 4,106 hours for the 21,298 km that a 21st century Marco Polo would need to cover on foot, crossing Africa, the Middle East and Asia.
Thanks to the Tokyo 2020 Olympic Games, the distance between South Africa and Japan has never been smaller. In Johannesburg, our refugee judoka, from the Judo for Peace program, had the chance to follow the event and connected to the Olympic Channel to follow the exploits of all the athletes who celebrated the accomplishment of all achievements: participate at the Olympic games. We asked them what they thought of the tournament and what their feelings were watching them participate in the Nippon Budokan.
Moses, 20, is a refugee from the DRC and a blue belt in judo. He said, "Yes, I watched the Olympics every morning and I loved judo so much, of course, but also weightlifting. My favorite country was Japan, the host country. Abe Hifumi was the one I was really watching as he made his nation proud by winning home gold in his first Olympic appearance. It's such a success and it motivates us, his fans."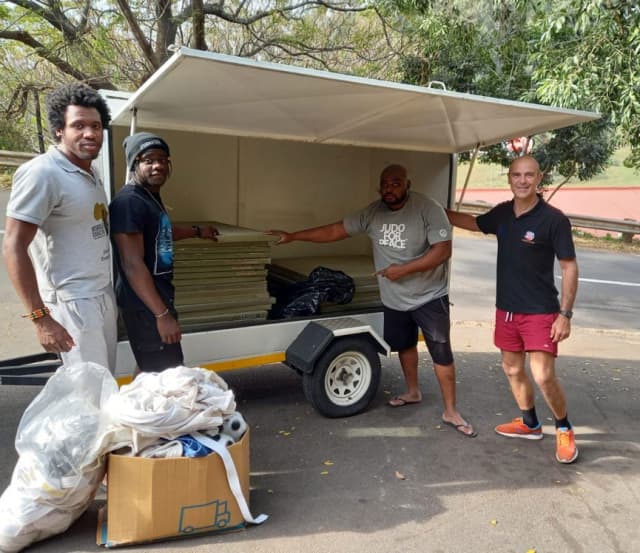 A tatami donation delivered to Durban for the opening of a new Judo for Peace dojo. The new dojo will be opened in central Durban, in an area where many refugees and migrants live alongside local communities. The tatami mats were sent from Germany.
There was also an Olympic team of refugees and for our refugee judokas around the world, it was more than just a symbol. Moses explained: "I think they are a good team and they should keep working hard; this is the only way to be successful. I wish that at the next Olympic Games, in Paris in 2024, I could be present, so I could capture all the action of the judo competitions in reality."
Carmi, 21, is also a refugee from the DRC and has a brown judo belt. He said, "Ah yes, I followed the Olympic Games and I supported France. In judo I chose Teddy, obviously because he is a model and I have the impression that we like similar techniques. When it comes to judo, this is someone I have watched for so long. His contests are fun to watch but I also followed gymnastics. I love Nikita Nagornyy (ROC) because of her enthusiasm and passion for the sport.
I really believe that we should have more African athletes participating in the Olympics."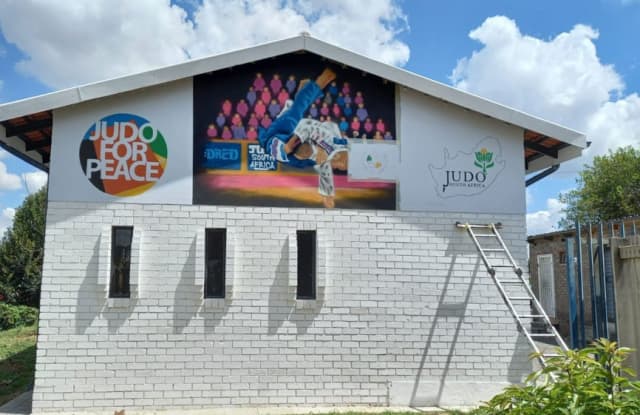 Judo for Peace works closely with the South African office of UNHCR and with other partners: the NIKE Foundation and the Embassy of Japan. We recently opened a new dojo in Durban as well as Alexandra Township in Johannesburg.
Enock, 18, is from the DRC. He is also a blue belt. "I supported Portugal. I loved watching judo and gymnastics. My favorite athlete is Jorge Fonseca in the -100 kg category because he has been very consistent in all his competitions and he is spectacular.
Having a refugee team at the Games is a great initiative. It motivates us all, as well as other refugees. My wish for the next Olympic Games is to see refugee athletes from my country participate and win."
Despite all the difficulties caused by the pandemic in the country, the Judo for Peace program in South Africa continues to grow. A specific safety protocol was adopted for the training and the group led by Roberto Orlando (alumni of the IJF Academy) was able to continue its activities. Today the program has helped hundreds of young people to work in the values ​​of judo and to believe in a society where social cohesion is a real goal.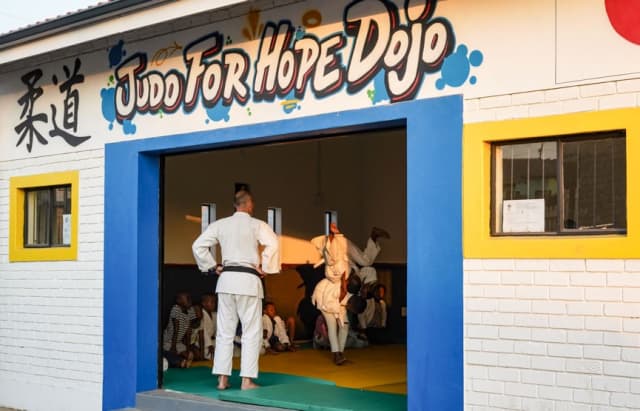 The Judo for Hope Dojo in Alexandra Township, built in collaboration with JSA and with funds from the Japanese Embassy in South Africa
There is no doubt that the fact that the Olympic Games have taken place, that refugee athletes can participate in them and that great champions can become true role models for athletes in need, is a major achievement of these extraordinary Games. It's all about inspiration and Moses, Carmi and Enock, along with hundreds of other refugees, were truly inspired. Tokyo has never been so close to Johannesburg.
[ad_2]